Hello Adventurers! What are you guys planning to be for Halloween?
Salt, pepper and cumin
?
Lady, Tramp and the Plate they Ate From
? C3PO, R2D2 and that junky red one?
With Halloween a few weeks away, I thought I'd share with you some of the hair raising things
to do in our city.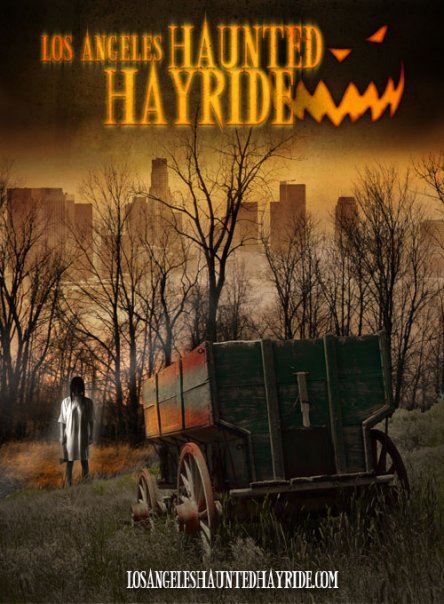 Los Angeles Haunted Hayride
This thrilling hayride will give you a 25 minute non-stop scare as you encounter monsters and evil clowns racing through the woods of Griffith Park. Once your hair has turned gray from the hayride, venture into the haunted maze and the human menagerie (side show). Also don't miss the games, pumpkin patch and "scary go-round".
Halloween Harvest Festival
This festival is put on by the students at Pierce College. In addition to games, bouncy castles, kettle corn and a pumpkin patch, there's also a corn maze. The maze is divided into two sections--one that's haunted and one that isn't. In the haunted part, t

here are lots of creatures hiding in the corn waiting to jump out and scare you. Even scarier (believe it or not) is the Haunted House. You will be having nightmares of evil clowns, zombies and demons after leaving this crazy house of horrors. Click here

to read my full post in the festival and to see a video of the beast in the picture above coming to life.
Knott's Scary Farm
Halloween mazes are frightening enough, but Knott's Scary Farm ups the scream factor by giving you the option of wearing 3-D glasses in their mazes. This fright fest features 13 mazes and 4 scare zones.
Halloween Horror Nights at Universal Studios
Eli Roth's Hostel, The Thing, Rob Zombie's House of 1,000 Corpses, Alice Cooper's Welcome to My Nightmare, The Wolfman and La Llorona are the terrifying attractions at this year's Halloween Horror Nights. Get ready to step into your worst bloody nightmare!
Six Flags Magic Mountain Fright Fest
More creepy mazes, haunted houses and wandering zombies... The rides have also been given a Halloween makeover, including a backward running Colossus, Terror Tracks and Foggy Nights.
Necromance
Forget the paper cut-out skeletons and plastic bats from Walmart. Get your real Halloween accessories at this amazing shop on Melrose. Here you'll find freeze dried bats ($25), rattlesnake heads ($28), glass eyes in assorted colors, beautiful gothic parasols ($35), and real spider belt buckles ($20).
Queen Mary's Dark Harbor
Board this haunted ship and wander through its scary mazes. Food and drinks are available as you dance the night away at their all ages dance party.
Halloween and Mourning Tours by Heritage Square Museum
This two day event on October 29 and 30th is perfect for the whole family. Learn about death and mourning etiquette during the Victorian era, participate in a funeral inside one of the historic homes, and have your future read by a fortune teller. There are also period games, crafts and a pumpkin patch for the kids.
Other Halloween Happenings:
Interactive Haunted Play: Delusion
Day of the Dead at Hollywood Forever Cemetery (Oct. 22)
Boo at the Zoo
Old Town Haunt in Pasadena
Halloween at Disneyland
Subscribe to 365 LA